Blocking dynamic range was the biggest beneficiary of increased LO, however all three measurements showed improvement. Even higher LO levels (above 14V p-p) were tried and further improvement in blocking dynamic range was noted but at a diminished rate of improvement. Somewhat surprising was the 2-dB improvement in noise floor. Noise levels increased for LO levels below 8V p-p and got significantly worse for LO levels below 4V p-p.

These tests indicate that the SS-1R might be an even better performer had it not been starved for LO. Why Squires elected to go with lower LO levels is unknown but it may be related to second harmonic mixing or the desire to keep birdies at a very low level. The specifications for spurious are 'None at stated sensitivity' which is '1/2 microvolt or better for 10 dB signal-to-noise ratio measured with 5 kc bandwidth on 10 meters'. Further study and measurements of the 7360 mixer would no doubt produce interesting information.

Fairly simple modifications have been devised to boost both oscillators to the 10V p-p level. As time permits these mods will be incorporated into the receiver and new sensitivity and dynamic range measurements will be made.

Construction

Since the SS-1R is a seldom seen, low production number receiver, a few words and pictures describing construction are in order. The main chassis, shielded compartments and all brackets are gold alodined aluminum. The chassis slides into a one piece aluminum extrusion that makes up the left side, front and right side of the case and is bent with a radius at each corner. The chassis, complete with all controls attached, can be slid clear of the front and side panels once the knobs have been removed. This would seldom be required as there is excellent access once the top and bottom cover assembly is removed. Two shielded compartments can be seen below deck - one for the VLO and the other for the crystal oscillator / second mixer. The quality of components and construction approaches that of the Collins S-line receivers.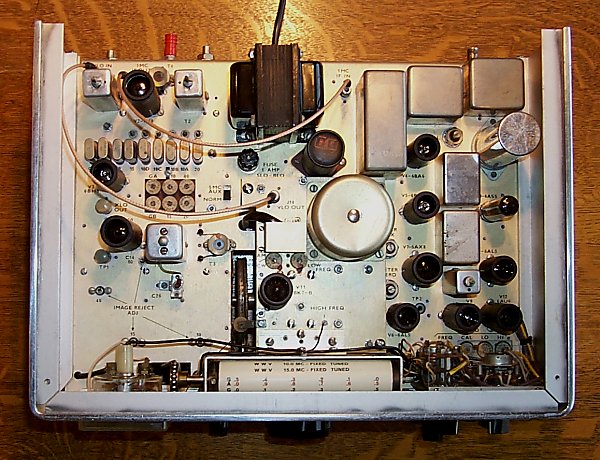 A curious addition to this receiver is the i-f notch filter shown in the red circle. Adjustment of the notch is via a knob that is concentric with the rf gain control. This circuit does not appear on the two schematic diagrams that are available. Initially it was thought that this was a user added feature but on closer inspection it looks to be a factory job. The components used including the fixed value capacitors, pot core, resistors, teflon tie points and concentric knobs are all factory parts. Perhaps this was a custom factory addition.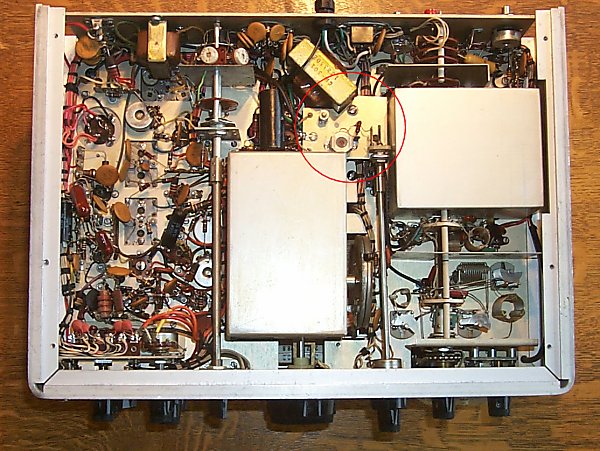 Squires also manufactured innovative accessories for the SS-1R. The SS-1S 'Noise Silencer', detected impulse noise in the wide (500 kHz) first i-f, amplified and shaped these impulses and used them to provide blanking action in the narrow second i-f. It was sold as a separate unit and was conveniently housed in an SS-1RS matching speaker. The SS-1V Video Bandscanner is a band scope that allows monitoring of the entire band in use. The displayed signals don't move as the receiver is tuned, but instead a marker 'pip' indicates the receive frequency. Squires also manufactured a shortwave broadcast version of the receiver identified as the SS-IBS.

While the SS-1R incorporated a number of innovative ideas and performs very well there is one caveat that should be mentioned. The spec sheet calls out a 52 ohm antenna. Most receivers 'of the day' had one or more rf amplifiers and at least a couple sets of rf tuned circuits. With the typical abundance of gain these receivers can use most any matched or unmatched antenna. The SS-1R, with no rf amplifier and only one rf tuned circuit in the grid of the mixer that handles both impedance matching and image rejection, an antenna with close to the correct impedance is a must. Unmatched random wire antennas will yield disappointing receiver sensitivity and image rejection. In those situations a receive antenna matching circuit will be required. Squires sold a 'Broadband Antenna Matcher' as an accessory item for the SS-1R.

Unfortunately William Squires, W2PUL was killed in a small plane crash not long after the SS-1R product line went into production. He certainly demonstrated a different approach to receiver design and one can only imagine what other receiver innovations might have been forthcoming.


Jay Rusgrove W1VD